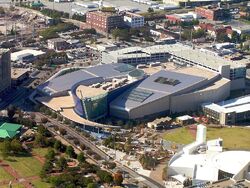 Pemberton Place, located in downtown Atlanta, Georgia, just north of Centennial Olympic Park in the Luckie Marietta district, is a complex that is home to the Georgia Aquarium, the World of Coca-Cola, and the planned National Center for Civil and Human Rights. It is named for John Pemberton, the inventor of Coca-Cola.
The area was originally 10 city blocks of businesses, residences, etc. and started to decline in the mid-20th century and by the early 1990s was considered a "long forgotten district of Downtown". Coca-Cola acquired property in the area during the 1990s and built Coca-Cola Olympic City there for the 1996 Olympics. Coke then donated the land in 2002 to provide a home for visitor attractions.
Ad blocker interference detected!
Wikia is a free-to-use site that makes money from advertising. We have a modified experience for viewers using ad blockers

Wikia is not accessible if you've made further modifications. Remove the custom ad blocker rule(s) and the page will load as expected.