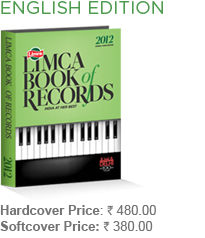 Limca Book of Records is a record book of Indian origin. It was first published in 1990, when the Limca Brand was owned by Parle Group. The book continued to be published by Coca-Cola, when they bought the Limca Brand. The 20th edition of this book was released by Amitabh Bachchan in March 2009. The Limca Book of Records is published with the patronage of Coca-Cola India which manufactures the soft drink called Limca. The 21st edition of the book was launched on March 29, 2011. As the Sports Achievers Special Edition, it pays special tribute to the Indian sportspersons proud in the 2010 Commonwealth Games and Asian Games. The book came in three languages: English, Hindi and Malayalam.
Ad blocker interference detected!
Wikia is a free-to-use site that makes money from advertising. We have a modified experience for viewers using ad blockers

Wikia is not accessible if you've made further modifications. Remove the custom ad blocker rule(s) and the page will load as expected.