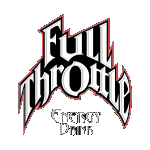 Full Throttle is an energy drink brand produced by The Coca-Cola Company. It debuted in late 2004 in North America. On April 24, 2008, it was announced that Coca-Cola would change sponsorship of the National Hot Rod Association professional classes from Powerade to Full Throttle.
The graphics on the new Full Throttle were inspired by classic automotive design elements. Full Throttle comes in 16-ounce cans and is available in Citrus, Blue Agave, Red Berry, Mocha and Caramel.
Product Variants

Edit
Sugar-Free Full Throttle, Full-Throttle Fury, Full Throttle Blue Demon, Full Throttle Frozen Fury, Full Throttle Mother, Full Throttle Coffee Caramel, Vanilla, and Mocha.
Ad blocker interference detected!
Wikia is a free-to-use site that makes money from advertising. We have a modified experience for viewers using ad blockers

Wikia is not accessible if you've made further modifications. Remove the custom ad blocker rule(s) and the page will load as expected.