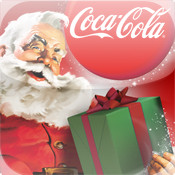 The Coca-Cola Santa's Helper application is an interactive iOS application. It was released on October 14, 2011, for iPhone 3GS, iPhone 4, iPhone 4S, iPod Touch (3rd generation), iPod Touch (4th generation) and iPad. It requires iOS 4.0 or later. You can download it here.
Description
Edit
It's Christmas time again and Santa Claus will be busy delivering gifts around the world! Lend him a hand and steer his reindeer sleigh over the rooftops of the city at night. Try to throw the gifts into the chimneys so all the good girls and boys get their gifts right in time for Christmas Eve. Have fun! Merry Christmas with Coca-Cola.
iPhone & iPad Screenshots
Edit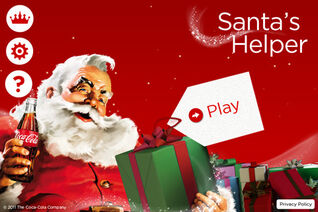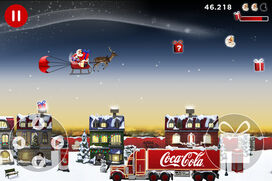 Ad blocker interference detected!
Wikia is a free-to-use site that makes money from advertising. We have a modified experience for viewers using ad blockers

Wikia is not accessible if you've made further modifications. Remove the custom ad blocker rule(s) and the page will load as expected.