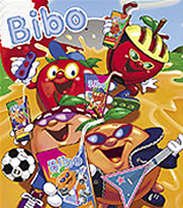 Bibo (or Bibo Juice) is a fruit-flavoured juice developed in 1998 by The Coca-Cola Company. It was originally mainly available in Canada, but has also been sold in Turkey, South Africa, and Mozambique.
Beginnings
Edit
Bibo was only produced for a short period of time (about 5 years) in Counties in Canada, Turkey, South Africa, and Mozambique, but its loyal fans would like to see the Coca-Cola Company re-introduce the juice in other countries such as the US.
Cherry
Apple
Orange
Peach
Strawberry
Candy Pine-Nut
Discontinuation
Edit
Bibo was discontinued in 2004.
Ad blocker interference detected!
Wikia is a free-to-use site that makes money from advertising. We have a modified experience for viewers using ad blockers

Wikia is not accessible if you've made further modifications. Remove the custom ad blocker rule(s) and the page will load as expected.